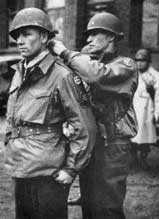 "Task Force" Staff Sergeant Junior J. Spurrier being presented the Congressional Medal of Honor by General Simpson.

You can learn more about the Medal of Honor at the 134th Infantry Regiment web site, click here to see it.
The 35th Division has a museum. Did you know that? Check out the Kansas Guard Museum online.